Candy Crush CHEAT
Are you sick of waiting for new lives in Candy Crush!? This is how you can get free lives and can try that *** hard level again!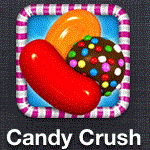 If you change the time on your iphone or ipad you will get new lives! Following steps are very important…
Step 1 Start playing Candy Crush as usual and run out of lives.
Step 2 Close your game and go to the device's settings on your Iphone/Ipad
Step 3 Open General Settings and open Date and time.
Step 4 Switch setting 'Set automatically' to off so you can change day and time
Step 5 Set time a few hours ahead
Step 6 Open Candy Crush and you have new lives!
Tags: Saga Candy Crush, candy, free lives, cheat, help, solution, hack, tips, tricks, answers