Close Up Character Answers All Levels
Close Up Character Answers, cheats, solutions, tips and tricks are online for this game created by Goda Game for iPhone, iPod, iPad and Android devices. When you don't know the character name from well know cartoon, comic books, anime, movie actor or something else we will help you to find the correct answer. Check out our website and we will help you to guess the hidden names for this pic quiz.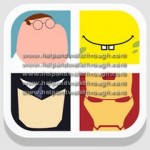 Like this page and share it with your friends:
You can download this game in the Google play store created by Goda Game and in the iTunes store by Pham Tien Dung
We have ordered the answers from A till Z, so fill in the first letter and check number of letters!
Close Up Character Answers All Levels
To see next levels click on the NEXT button on the bottom of this page
Close Up Character Level 1-1 : Aladdin
Close Up Character Level 1-2 : Aladeen
Close Up Character Level 1-3 : Alex
Close Up Character Level 1-4 : Alice
Close Up Character Level 1-5 : Alvin
Close Up Character Level 1-6 : Amelie
Close Up Character Level 1-7 : Ariel
Close Up Character Level 1-8 : Arthur
Close Up Character Level 1-9 : Asterix
Close Up Character Level 1-10 : Astro boy
Close Up Character Level 2-11 : Aurora
Close Up Character Level 2-12 : Bambi
Close Up Character Level 2-13 : Bane
Close Up Character Level 2-14 : Bart Simpson
Close Up Character Level 2-15 : Belle
Close Up Character Level 2-16 : Bender
Close Up Character Level 2-17 : Benten
Close Up Character Level 2-18 : Beowulf
Close Up Character Level 2-19 : Betty Boop
Close Up Character Level 2-20 : Black Widow
Close Up Character Level 3-21 : Bob Parr
Close Up Character Level 3-22 : Bolt
Close Up Character Level 3-23 : Boo
Close Up Character Level 3-24 : Boog
Close Up Character Level 3-25 : Brian Griffin
Close Up Character Level 3-26 : Bruce
Close Up Character Level 3-27 : Bruno
Close Up Character Level 3-28 : Bugs Bunny
Close Up Character Level 3-29 : Bumblebee
Close Up Character Level 3-30 : Buzz
Close Up Character Level 4-31 : Carl
Close Up Character Level 4-32 : Carlos
Close Up Character Level 4-33 : Catwoman
Close Up Character Level 4-34 : Chucky
Close Up Character Level 4-35 : Caroline
Close Up Character Level 4-36 : Courage
Close Up Character Level 4-37 : Cyclops
Close Up Character Level 4-38 : Daffy Duck
Close Up Character Level 4-39 : Darkwing duck
Close Up Character Level 4-40 : Darth vader
Close Up Character Level 5-41 : Daryl Dixon
Close Up Character Level 5-42 : Davy Jones
Close Up Character Level 5-43 : Deadpool
Close Up Character Level 5-44 : Dexter Morgan
Close Up Character Level 5-45 : Dorian Gray
Close Up Character Level 5-46 : Draco Malfoy
Close Up Character Level 5-47 : Dug
Close Up Character Level 5-48 : Dumbo
Close Up Character Level 5-49 : Edna
Close Up Character Level 5-50 : Eeyore
Close Up Character Level 6-51 : Elastigirl
Close Up Character Level 6-52 : Elektra
Close Up Character Level 6-53 : Elmo
Close Up Character Level 6-54 : Elsa
Close Up Character Level 6-55 : Emily
Close Up Character Level 6-56 : Ernie
Close Up Character Level 6-57 : ET
Close Up Character Level 6-58 : Eve
Close Up Character Level 6-59 : Finnick
Close Up Character Level 6-60 : Fiona
Close Up Character Level 7-61 : Flash
Close Up Character Level 7-62 : Forrest Gump
Close Up Character Level 7-63 : Foxy Loxy
Close Up Character Level 7-64 : Freddy
Close Up Character Level 7-65 : Frodo
Close Up Character Level 7-66 : Gandalf
Close Up Character Level 7-67 : Garfield
Close Up Character Level 7-68 : Genie
Close Up Character Level 7-69 : Ghost Rider
Close Up Character Level 7-70 : Ghostface
Close Up Character Level 8-71 : Gizmo
Close Up Character Level 8-72 : Gollum
Close Up Character Level 8-73 : Goofy
Close Up Character Level 8-74 : Hades
Close Up Character Level 8-75 : Han Solo
Close Up Character Level 8-76 : Harry Potter
Close Up Character Level 8-77 : Hawkey
Close Up Character Level 8-78 : He Man
Close Up Character Level 8-79 : Hellboy
Close Up Character Level 8-80 : Herbie
Close Up Character Level 9-81 : Hercules
Close Up Character Level 9-82 : Hermione
Close Up Character Level 9-83 : Hit Girl
Close Up Character Level 9-84 : Homer Simpson
Close Up Character Level 9-85 : Hulk
Close Up Character Level 9-86 : Human Torch
Close Up Character Level 9-87 : Igor
Close Up Character Level 9-88 : Iron Man
Close Up Character Level 9-89 : Jack Harper
Close Up Character Level 9-90 : Jack Sparrow
Close Up Character Level 10-91 : James Bond
Close Up Character Level 10-92 : Jasmine
Close Up Character Level 10-93 : Jason
Close Up Character Level 10-94 : Jazz
Close Up Character Level 10-95 : Jerry
Close Up Character Level 10-96 : Jessie
Close Up Character Level 10-97 : John Carter
Close Up Character Level 10-98 : Johnny Bravo
Close Up Character Level 10-99 : Joker
Close Up Character Level 10-100 : Judge Dredd
Close Up Character Level 11-101 : Kenny
Close Up Character Level 11-102 : Kermit
Close Up Character Level 11-103 : Kick ass
Close Up Character Level 11-104 : Kim Possible
Close Up Character Level 11-105 : King Candy
Close Up Character Level 11-106 : Kristoff
Close Up Character Level 11-107 : Krish
Close Up Character Level 11-108 : Lara Croft
Close Up Character Level 11-109 : Legolas
Close Up Character Level 11-110 : Lilo
Close Up Character Level 12-111 : Lincoln
Close Up Character Level 12-112 : Lisa Simpson
Close Up Character Level 12-113 : Loki
Close Up Character Level 12-114 : Lucky Luke
Close Up Character Level 12-115 : Machete
Close Up Character Level 12-116 : Magneto
Close Up Character Level 12-117 : Major Glory
Close Up Character Level 12-118 : Maleficent
Close Up Character Level 12-119 : Marge Simpson
Close Up Character Level 12-120 : Maximus
Close Up Character Level 13-121 : Megamind
Close Up Character Level 13-122 : Melinda May
Close Up Character Level 13-123 : Merida
Close Up Character Level 13-124 : Metro man
Close Up Character Level 13-125 : Mighty Mouse
Close Up Character Level 13-126 : Mike
Close Up Character Level 13-127 : Mittens
Close Up Character Level 13-128 : Morpheus
Close Up Character Level 13-129 : Mr Bean
Close Up Character Level 13-130 : Mulan
Close Up Character Level 14-131 : Mystique
Close Up Character Level 14-132 : Nanny McPhee
Close Up Character Level 14-133 : Nemo
Close Up Character Level 14-134 : Neo
Close Up Character Level 14-135 : Nick Fury
Close Up Character Level 14-136 : Nina Sayers
Close Up Character Level 14-137 : Obelix
Close Up Character Level 14-138 : Olaf
Close Up Character Level 14-139 : Optimus Primes
Close Up Character Level 14-140 : Papa Smurf
Close Up Character Level 15-141 : Patrick Star
Close Up Character Level 15-142 : Paul
Close Up Character Level 15-143 : Pennywise
Close Up Character Level 15-144 : Peter Pan
Close Up Character Level 15-145 : Piglet
Close Up Character Level 15-146 : Picachu
Close Up Character Level 15-147 : Pinhead
Close Up Character Level 15-148 : Pinocchio
Close Up Character Level 15-149 : Pluto
Close Up Character Level 15-150 : Po
Close Up Character Bonus Level 1-151 : Pocahontas
Close Up Character Bonus Level 1-152 : Ponyo
Close Up Character Bonus Level 1-153 : Popeye
Close Up Character Bonus Level 1-154 : Porky
Close Up Character Bonus Level 1-155 : Predator
Close Up Character Bonus Level 1-156 : Pumbaa
Close Up Character Bonus Level 1-157 : Queen Elinor
Close Up Character Bonus Level 1-158 : Rambo
Close Up Character Bonus Level 1-159 : Rango
Close Up Character Bonus Level 1-160 : Rapunzel
Close Up Character Bonus Level 1-161 : Remy
Close Up Character Bonus Level 1-162 : Robin
Close Up Character Bonus Level 1-163 : Robin Hood
Close Up Character Bonus Level 1-164 : Robocop
Close Up Character Bonus Level 1-165 : Rodney
Close Up Character Bonus Level 1-166 : Russell
Close Up Character Bonus Level 1-167 : Samurai Jack
Close Up Character Bonus Level 1-168 : Scooby Doo
Close Up Character Bonus Level 1-169 : Scrat
Close Up Character Bonus Level 1-170 : Severus Snape
Close Up Character Bonus Level 1-171 : Shaggy
Close Up Character Bonus Level 1-172 : Shrek
Close Up Character Bonus Level 1-173 : Simba
Close Up Character Bonus Level 1-174 : Slinky Dog
Close Up Character Bonus Level 1-175 : Smurfette
Close Up Character Bonus Level 1-176 : Snow white
Close Up Character Bonus Level 1-177 : Spiderman
Close Up Character Bonus Level 1-178 : Spongebob
Close Up Character Bonus Level 1-179 : Squidward
Close Up Character Bonus Level 1-180 : Sulley
Close Up Character Bonus Level 2-181 : Superman
Close Up Character Bonus Level 2-182 : Syndrome
Close Up Character Bonus Level 2-183 : Tarzan
Close Up Character Bonus Level 2-184 : Ted
Close Up Character Bonus Level 2-185 : Terminator
Close Up Character Bonus Level 2-186 : Theodore
Close Up Character Bonus Level 2-187 : Thing
Close Up Character Bonus Level 2-188 : Thor
Close Up Character Bonus Level 2-189 : Tigger
Close Up Character Bonus Level 2-190 : Timon
Close Up Character Bonus Level 2-191 : Tinker bell
Close Up Character Bonus Level 2-192 : Titan
Close Up Character Bonus Level 2-193 : Toothless
Close Up Character Bonus Level 2-194 : Topcat
Close Up Character Bonus Level 2-195 : Tweety
Close Up Character Bonus Level 2-196 : Tyler Durden
Close Up Character Bonus Level 2-197 : Underdog
Close Up Character Bonus Level 2-198 : Ursula
Close Up Character Bonus Level 2-199 : Van Helsing
Close Up Character Bonus Level 2-200 : Venom
Close Up Character Bonus Level 2-201 : Voldemort
Close Up Character Bonus Level 2-202 : Wall E
Close Up Character Bonus Level 2-203 : Wilma
Close Up Character Bonus Level 2-204 : Wolverine
Close Up Character Bonus Level 2-205 : Wonder Woman
Close Up Character Bonus Level 2-206 : Woody
Close Up Character Bonus Level 2-207 : Yoda
Close Up Character Bonus Level 2-208 : Yogi Bear
Close Up Character Bonus Level 2-209 : Zeus
Close Up Character Bonus Level 2-210 : Zorro