PictoWord Answers All Levels
Pictoword Answers, Solutions and Cheats all levels for this game developed by Kooapps for Android and iOS devices.
Stuck and need help? Find the complete list below, just simple one list.
Pictoword Free: Fun 2 Pics, Guess What's the 1 Word Answers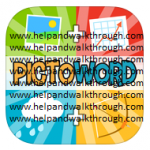 Description
* Featured by Apple! Most Popular Word Game in 30 Countries! *
Pictoword – a simple yet addictive word game where you "read" series of pictures that combine to create a word!
For example, you'll see a picture of SAND and a WITCH. Combine the two to solve for SANDWICH – a lunchtime favorite! When you're stumped, try saying the words out loud or asking a friend!
You'll be delighted by the challenging and fun picture-word game Pictoword!
You can download this game over here:



Singer Quiz Answers
To see next levels click on the NEXT button on the bottom of this page
Pictoword Level 1 : Begin
Pictoword Level 2 : Football
Pictoword Level 3 : Sandwich
Pictoword Level 4 : Hotdog
Pictoword Level 5 : Earring
Pictoword Level 6 : Horseshoe
Pictoword Level 7 : Keyboard
Pictoword Level 8 : Cupcake
Pictoword Level 9 : Jumprope
Pictoword Level 10 : Icebox
Pictoword Level 11 : Handshake
Pictoword Level 12 : Jellyfish
Pictoword Level 13 : Suitcase
Pictoword Level 14 : Lipstick
Pictoword Level 15 : Checkbook
Pictoword Level 16 : Webmail
Pictoword Level 17 : Ladybug
Pictoword Level 18 : Mouthwash
Pictoword Level 19 : Beanbag
Pictoword Level 20 : Layoff
Pictoword Level 21 : Mousetrap
Pictoword Level 22 : Candycane
Pictoword Level 23 : Submarine
Pictoword Level 24 : Manhole
Pictoword Level 25 : Jigsaw
Pictoword Level 26 : Limestone
Pictoword Level 27 : Carpet
Pictoword Level 28 : Railroad
Pictoword Level 29 : Feedback
Pictoword Level 30 : Seesaw
Pictoword Level 31 : Snowglobe
Pictoword Level 32 : Potluck
Pictoword Level 33 : Hairnet
Pictoword Level 34 : Penny
Pictoword Level 35 : Corkscrew
Pictoword Level 36 : Teaspoon
Pictoword Level 37 : Million
Pictoword Level 38 : Rainbow
Pictoword Level 39 : Cockpit
Pictoword Level 40 : Cellphone
Pictoword Level 41 : Jaywalk
Pictoword Level 42 : Milkshake
Pictoword Level 43 : Mischief
Pictoword Level 44 : Spyglass
Pictoword Level 45 : Doorway
Pictoword Level 46 : Cannot
Pictoword Level 47 : Lightbulb
Pictoword Level 48 : People
Pictoword Level 49 : Stopwatch
Pictoword Level 50 : Corndog
Pictoword Level 51 : Airfare
Pictoword Level 52 : Laptop
Pictoword Level 53 : Teapot
Pictoword Level 54 : Network
Pictoword Level 55 : Database
Pictoword Level 56 : Nightmare
Pictoword Level 57 : Goldfish
Pictoword Level 58 : Necklace
Pictoword Level 59 : Lawsuit
Pictoword Level 60 : Slapjack
Pictoword Level 61 : Laundry
Pictoword Level 62 : Peanuts
Pictoword Level 63 : Kneecap
Pictoword Level 64 : Overnight
Pictoword Level 65 : Friday
Pictoword Level 66 : Haircut
Pictoword Level 67 : Clothespin
Pictoword Level 68 : Alphabet
Pictoword Level 69 : Icecream
Pictoword Level 70 : Footprint
Pictoword Level 71 : Pencil
Pictoword Level 72 : Forklift
Pictoword Level 73 : Payroll
Pictoword Level 74 : Pinkeye
Pictoword Level 75 : Insult
Pictoword Level 76 : Heartburn
Pictoword Level 77 : Parent
Pictoword Level 78 : Spacebar
Pictoword Level 79 : Express
Pictoword Level 80 : Stallion
Pictoword Level 81 : Shortstop
Pictoword Level 82 : Greenhouse
Pictoword Level 83 : Mangle
Pictoword Level 84 : Superbowl
Pictoword Level 85 : Peasant
Pictoword Level 86 : Cornbread
Pictoword Level 87 : Grateful
Pictoword Level 88 : Carpool
Pictoword Level 89 : Cargo
Pictoword Level 90 : Lovesick
Pictoword Level 91 : Heyday
Pictoword Level 92 : Tuxedo
Pictoword Level 93 : Spaceship
Pictoword Level 94 : Hedgehog
Pictoword Level 95 : Milkman
Pictoword Level 96 : Whiten
Pictoword Level 97 : Airplane
Pictoword Level 98 : Jackpot
Pictoword Level 99 : Kidney
Pictoword Level 100 : Barber
Pictoword Level 101 : Kingpin
Pictoword Level 102 : Notebook
Pictoword Level 103 : Sunflower
Pictoword Level 104 : Sweatshirt
Pictoword Level 105 : Office
Pictoword Level 106 : Eardrum
Pictoword Level 107 : Pirate
Pictoword Level 108 : Gumbo
Pictoword Level 109 : Firefly
Pictoword Level 110 : Orange
Pictoword Level 111 : Dollhouse
Pictoword Level 112 : Costume
Pictoword Level 113 : Pinecone
Pictoword Level 114 : Party
Pictoword Level 115 : Coconut
Pictoword Level 116 : Vineyard
Pictoword Level 117 : Inhale
Pictoword Level 118 : Jasmine
Pictoword Level 119 : Pinwheel
Pictoword Level 120 : Boombox
Pictoword Level 121 : Strawberry
Pictoword Level 122 : Lipsync
Pictoword Level 123 : Follow
Pictoword Level 124 : Defense
Pictoword Level 125 : Bullhorn
Pictoword Level 126 : Lineup
Pictoword Level 127 : Tablecloth
Pictoword Level 128 : Bamboo
Pictoword Level 129 : Sparrow
Pictoword Level 130 : Forehead
Pictoword Level 131 : Soulmate
Pictoword Level 132 : Seahorse
Pictoword Level 133 : Cabinet
Pictoword Level 134 : Pauper
Pictoword Level 135 : Treaty
Pictoword Level 136 : Backpack
Pictoword Level 137 : Steamboat
Pictoword Level 138 : Illegal
Pictoword Level 139 : Behind
Pictoword Level 140 : Spearmint
Pictoword Level 141 : Bargain
Pictoword Level 142 : Landslide
Pictoword Level 143 : Hangman
Pictoword Level 144 : Pineapple
Pictoword Level 145 : Today
Pictoword Level 146 : Porridge
Pictoword Level 147 : Skyline
Pictoword Level 148 : Airport
Pictoword Level 149 : Cakewalk
Pictoword Level 150 : Window
Pictoword Level 151 : Icicle
Pictoword Level 152 : Platemail
Pictoword Level 153 : Hydrant
Pictoword Level 154 : Kitten
Pictoword Level 155 : Season
Pictoword Level 156 : Treehouse
Pictoword Level 157 : Freefall
Pictoword Level 158 : Pilot
Pictoword Level 159 : Crewcut
Pictoword Level 160 : Bagpipe
Pictoword Level 161 : Highlight
Pictoword Level 162 : Coffee
Pictoword Level 163 : Student
Pictoword Level 164 : Rockstar
Pictoword Level 165 : Whiplash
Pictoword Level 166 : Moonbeam
Pictoword Level 167 : Slumber
Pictoword Level 168 : Wristband
Pictoword Level 169 : Cocktail
Pictoword Level 170 : Hotspot
Pictoword Level 171 : Cartwheel
Pictoword Level 172 : Breakfast
Pictoword Level 173 : Impair
Pictoword Level 174 : Lemonade
Pictoword Level 175 : Crossing
Pictoword Level 176 : Coverage
Pictoword Level 177 : Oatmeal
Pictoword Level 178 : Cardshark
Pictoword Level 179 : Monkey
Pictoword Level 180 : Bellhop
Pictoword Level 181 : Logout
Pictoword Level 182 : Wishlist
Pictoword Level 183 : Reckless
Pictoword Level 184 : Flashlight
Pictoword Level 185 : Noodle
Pictoword Level 186 : Honeycomb
Pictoword Level 187 : Hamster
Pictoword Level 188 : Milestone
Pictoword Level 189 : Gumshoe
Pictoword Level 190 : Pilfer
Pictoword Level 191 : Whirlpool
Pictoword Level 192 : Carbon
Pictoword Level 193 : Eggplant
Pictoword Level 194 : Upset
Pictoword Level 195 : Island
Pictoword Level 196 : Barrier
Pictoword Level 197 : Courtyard
Pictoword Level 198 : Domain
Pictoword Level 199 : Butterfly
Pictoword Level 200 : Pitbull
Pictoword Level 201 : Legendary
Pictoword Level 202 : Bookshelf
Pictoword Level 203 : Service
Pictoword Level 204 : Barnacle
Pictoword Level 205 : Shipment
Pictoword Level 206 : Scandal
Pictoword Level 207 : Copycat
Pictoword Level 208 : Scarecrow
Pictoword Level 209 : Human
Pictoword Level 210 : Brainstorm
Pictoword Level 211 : Submit
Pictoword Level 212 : Promotion
Pictoword Level 213 : Honeydew
Pictoword Level 214 : Toolshed
Pictoword Level 215 : Chopstick
Pictoword Level 216 : Lifeguard
Pictoword Level 217 : Chestnut
Pictoword Level 218 : Public
Pictoword Level 219 : Spareribs
Pictoword Level 220 : Wallpaper
Pictoword Level 221 : Nitpick
Pictoword Level 222 : Bedtime
Pictoword Level 223 : Champagne
Pictoword Level 224 : Applesauce
Pictoword Level 225 : Bowtie
Pictoword Level 226 : Password
Pictoword Level 227 : Flagpole
Pictoword Level 228 : Accent
Pictoword Level 229 : Doorbell
Pictoword Level 230 : Altar
Pictoword Level 231 : Jawbone
Pictoword Level 232 : Tapdance
Pictoword Level 233 : Supreme
Pictoword Level 234 : Popcorn
Pictoword Level 235 : Mandate
Pictoword Level 236 : Meatball
Pictoword Level 237 : Brainwash
Pictoword Level 238 : Wheelchair
Pictoword Level 239 : Dramatic
Pictoword Level 240 : Watermelon
Pictoword Level 241 : Postcard
Pictoword Level 242 : Warlock
Pictoword Level 243 : Bobcat
Pictoword Level 244 : Clockwise
Pictoword Level 245 : Silkworm
Pictoword Level 246 : Rosebud
Pictoword Level 247 : Seashell
Pictoword Level 248 : Soysauce
Pictoword Level 249 : Tiptoe
Pictoword Level 250 : Wholesale
Pictoword Level 251 : Ponytail
Pictoword Level 252 : Teardrop
Pictoword Level 253 : Armchair
Pictoword Level 254 : Pushup
Pictoword Level 255 : Pensive
Pictoword Level 256 : Nutcracker
Pictoword Level 257 : Softball
Pictoword Level 258 : Tightrope
Pictoword Level 259 : Waterfall
Pictoword Level 260 : Nightgown
Pictoword Level 261 : Damage
Pictoword Level 262 : Grapefruit
Pictoword Level 263 : Escape
Pictoword Level 264 : Swordfish
Pictoword Level 265 : Wetsuit
Pictoword Level 266 : Fanfare
Pictoword Level 267 : Heatwave
Pictoword Level 268 : Welcome
Pictoword Level 269 : Skateboard
Pictoword Level 270 : Bathrobe
Pictoword Level 271 : Highschool
Pictoword Level 272 : Sandpaper
Pictoword Level 273 : Ramen
Pictoword Level 274 : Breakdance
Pictoword Level 275 : Pigpen
Pictoword Level 276 : Leftover
Pictoword Level 277 : Pancake
Pictoword Level 278 : Hardcover
Pictoword Level 279 : Tapeworm
Pictoword Level 280 : Kidnap
Pictoword Level 281 : Shoplift
Pictoword Level 282 : Pharaoh
Pictoword Level 283 : Frostbite
Pictoword Level 284 : Message
Pictoword Level 285 : Piggyback
Pictoword Level 286 : Raincheck
Pictoword Level 287 : Veto
Pictoword Level 288 : Campground
Pictoword Level 289 : Hollywood
Pictoword Level 290 : Microwave
Pictoword Level 291 : Corner
Pictoword Level 292 : Someday
Pictoword Level 293 : Joyride
Pictoword Level 294 : Hero
Pictoword Level 295 : Romantic
Pictoword Level 296 : Outside
Pictoword Level 297 : Borderline
Pictoword Level 298 : Homework
Pictoword Level 299 : Raindrop
Pictoword Level 300 : Bellbottom
Pictoword Level 301 : Friendship
Pictoword Level 302 : Ripple
Pictoword Level 303 : Yellow
Pictoword Level 304 : Overload
Pictoword Level 305 : Heartbeat
Pictoword Level 306 : Starlight
Pictoword Level 307 : Cornerstone
Pictoword Level 308 : Countdown
Pictoword Level 309 : Hangnail
Pictoword Level 310 : Headstrong
Pictoword Level 311 : Tipsy
Pictoword Level 312 : Bulletproof
Pictoword Level 313 : Planet
Pictoword Level 314 : Hangover
Pictoword Level 315 : Backseat
Pictoword Level 316 : Daylight
Pictoword Level 317 : Radioactive
Pictoword Level 318 : Retrograde
Pictoword Level 319 : Battleship
Pictoword Level 320 : Surfboard
Pictoword Level 321 : Birthday
Pictoword Level 322 : Midnight
Pictoword Level 323 : Sunset
Pictoword Level 324 : Blackout
Pictoword Level 325 : Bossy
Pictoword Level 326 : Wildflower
Pictoword Level 327 : Supermodel
Pictoword Level 328 : Dashboard
Pictoword Level 329 : Promise
Pictoword Level 330 : Headache
Pictoword Level 331 : Underwater